Seattle writer/professional dominatrix's personal musings, rants and life-trivia...
Wednesday, May 01, 2013
Some comments about sex trafficking, and links for education
I'm a sex worker, I like being a sex worker, and I am an activist for the rights of sex workers. As part of that, I would like to see a world where no one is forced to do sex work. That does happen sometimes, and it's bad. But forced sex work is not the huge and scary problem some people would like you think it is. It is not okay that it happens at all, but it simply does not happen NEARLY as often as anti-sex workers say it does.
To begin with, understand this fact:
When lawmakers and anti-sex work activists say "sex trafficking" they mean ANY exchange of sex for money, even if it is between two adults and completely voluntary.
Let me say that again, because I think it bears repeating. To an anti-trafficking activist, an adult person, fully in possession of her rational faculties and completely independent of anyone else's influence, who chooses to exchange a sexual act for money = a sex trafficking victim.
I think this is deeply insulting to people who really are victimized. I think one should only use the work
trafficked
to mean a person who is truly being forced or coerced, or controlled by another person in a way that's harmful or exploitative. I also think it's unjust to invalidate the agency of an adult person. You own your body, and if you, as a consenting adult, choose to have sex with another consenting adult, the state should not have the right to say, "No, we don't approve of your reason for having sex, so we are declaring your act to be a crime and arresting you both." It does not matter if you decided to have sex because someone bought you dinner, or because they offered you a diamond ring, or if they offered you a hundred dollars.
Further, no one should declare that you are a "victim" of anything without your consent. It is for the person who has had the experience to identify whether she/he was a victim of something or not. It's wrong to impose a label on someone they did not choose for themselves.
Since about 2008, the rhetoric about
any
act of sex for money has changed, and it is now all defined as "trafficking". That's happened for a variety of reasons, most of them to with the allocation of grant money and the erosion of civil liberties. So the War On Sex Workers* is much like the War On Drugs. There is a system of restrictive ideas about what kind of behavior is socially acceptable, which have been woven into government policy and law, and there are a lot of people whose jobs and money and sense of power are all dependent on keeping that system in place. If there is no social panic about shadowy international crime rings and millions of women and children being abused in sensational ways, those people will lose power.
Plus, whenever sex is involved, some people have emotional responses which are based in their own experience rather that of the putative victim. There are religious organizations and moral crusaders involved in anti-trafficking who are not shy about their wish to impose a certain type of morality and social control, especially on women.
In addition, keep in mind that to many people, arresting and imprisoning US sex workers is not only a moral issue but part of a multimillion-dollar industry. Whenever there is money moving around, in the form of government grants and private donations to anti-sex work NGOs, and lucrative contracts and tax benefits to the private-prison industry, motivations can drift pretty far from the strictly altruistic. Laws against prostitution are selectively enforced, generally based on race and class, and overwhelmingly by gender. So the people at the bottom of the social-power pyramid are those most likely to be hurt by the laws against it.
That's why when you read scary headlines about
"X Bazillion People Are Being Sex Trafficked",
it does not necessarily mean the person is underage, or has been taken from one place to another, or is an undocumented immigrant, or is being forced or coerced into doing sex work against his/her wishes. It also doesn't mean that anyone can actually see/find those supposed victims, since they are often pure invention, as we will see.
People can be abused in systems of sex work - just as they can be abused in
non-sex work forms of labor,
and in all other social systems. But criminalization and stigmatization of all sex work is not the right answer. People are abused in the social institution of marriage, too. But we do not outlaw marriage and arrest anyone who says, "I do." People are raped, but we do not respond to that fact by outlawing all consensual sex. On a moral level, we do not want anyone to be harmed. But when it comes to allocating public resources to combat that, the current system does not work. It is not useful to treat a very wide spectrum of people around the world as if they were all the same one-dimensional "victim", and neither is it wise to try to condense this multifaceted issue into a few bits of bumper-sticker wisdom.
My goal here is to create sharper understanding of how the situation is not as black-and-white as people are often told, and that some of the systems that are ostensibly used to "help" people are not what those people themselves want, and may actually cause even more harm. It's crucial to have a true understanding of the reality of the situation, so we can devise systems that offer anyone being victimized real assistance while also treating them with dignity and being respectful of their agency and their wishes. To that end, this is the reading that I recommend to get a fuller understanding of the challenges of helping those who need help, without criminalizing, stigmatizing and generally imposing a very binary victim/criminal worldview onto a large and diverse set of people.
Start here:
Journalist Melissa Gira Grant's article "The War On Sex Workers"*. Grant has written a lot on this topic, but this is a good snapshot of the problem. "Although nearly all prostitution-related law in the United States is made at the state or municipal level, redefining
prostitution
as
trafficking
provides a rationale for federal action against the sex trade... It is about an unholy marriage of feminism with the conservatism and police power that many feminists claim to stand against."
http://reason.com/archives/2013/01/21/the-war-on-sex-workers
A perfect example of how false statistics about prostitution are uncritically accepted and repeated by (paid) celebrity spokespeople to drive public policy: Village Voice Takes on Ashton Kutcher, 2011
http://www.villagevoice.com/2011-06-29/news/real-men-get-their-facts-straight-sex-trafficking-ashton-kutcher-demi-moore/full/
(My remarks about that:
http://www.thestranger.com/seattle/control-tower/Content?oid=9028548
)
The story of a landmark study by John Jay College of Criminal Justice that "demolished virtually every stereotype surrounding the underage sex trade".
http://www.houstonpress.com/2011-11-03/news/lost-boys/full/
The FBI reports that $80 million is spent annually for law enforcement and social services to rescue approximately 200 child prostitutes per year. That's a $400,000-per-rescued-child average. Also, only 10% of underage sex workers report having pimps.
That lie about "the average age of entry into prostitution is 12 to 14 years old" has also been debunked.
Here:
http://www.politifact.com/oregon/statements/2013/mar/02/diane-mckeel/Is-average-age-entry-sex-trafficking-between-12-an/
And here:
Claims made by charity often indicates a potentially damaging approach to addressing human needs.
And here:
http://maggiemcneill.wordpress.com/2011/11/27/the-law-of-averages/
And here:
Unpacking the myth: "the average age of entry into prostitution is 13″
The fact that the alleged hundreds of thousands of sex trafficking victims simply cannot be found has been noted. "President Bush has blanketed the nation with 42 Justice Department task forces and spent more than $150 million -- all to find and help the estimated hundreds of thousands of victims of forced prostitution or labor in the United States. But the government couldn't find them."
http://www.washingtonpost.com/wp-dyn/content/article/2007/09/22/AR2007092201401.html
Washington Post, 2007.
In spite of federal funding and a special task force, police in Honolulu cannot find even one trafficking victim in a year of looking. (But they still want more money.) An excellent series of article about sex work in Hawaii.
http://www.civilbeat.com/articles/2012/03/15/15152-cops-prostitutes-and-pimps-arrests-turn-up-no-trafficking-victims
Anti-trafficking org throws parties and collects donations, but where did that money go? "Missouri Attorney General takes action against Stop Child Trafficking Now. The nonprofit spent hundreds of thousands of dollars to fund private "special operatives" teams to gather undercover intelligence about child sex trafficking. SCTNow claimed to work closely with law enforcement. However, when pressed for more details, SCTNow could not point to a single case in the country where information lead to an arrest or prosecution."
http://www.kshb.com/dpp/news/local_news/investigations/missouri-attorney-general-takes-action-against-national-nonprofit-after-41-action-news-investigation#ixzz2REMDbXr5
How trafficking stats get made: those arrested for prostitution are promised leniency if they say "I was trafficked".
http://www.
whas11.com/news/local/LMP
D-Prostitution-triples-sex-trafficking-a-concern-at-Derby-time-205301341.html
…
Chattanooga police recently found exactly one trafficking victim, although a study in 2011 claimed the area had "more than a hundred". Quotes from an editorial: "Chattanooga Police Chief Bobby Dodd said the sex trafficking incident...was "the only one I know of." And also, "The study is, apparently, based on erroneous surveys and severely lacking in verifiable facts... Unfortunately, local organizations appear unprepared to help what few sex trafficking cases there may be in the Chattanooga area."
http://www.timesfreepress.com/news/2013/jan/26/sex-trafficking-study-apparently-free-press/
The tone of news stories about prostitution arrests will sometimes read as slightly more sympathetic than in the past: "She has been caught in a sting. Her day is ruined, but the police hope her life can be saved." But the people are still arrested. This is how anti-trafficking groups work: they want to rescue people - by arresting them.
http://www.wjla.com/articles/2013/04/prostitution-led-by-growth-of-area-gambling-police-say-88017.html
Here's an example of how lies about sex trafficking issues are used to control and punish adult sexual behavior, criminalize citizens who have harmed no one, and extract money for the state: Nevada Sex Trafficking Bill AB67. "There is a lot of federal money available for anti-trafficking efforts in a time of austerity and sequestration when many budgets are being slashed." http://www.projectredumbrella.org/no-on-assembly-bill-67-ab113/
http://www.projectredumbrella.org/no-on-assembly-bill-67-ab113/
A study of arrests in Denver reveals that prostitution busts affect women more than men: adult males made up 39 percent of arrests, while adult females made up 61 percent,and women are more likely to get jail time: 70 percent of women, as opposed to just 36 percent of men.
http://blogs.westword.com/latestword/2012/05/prostitution_denver_study_women_johns.php
Arresting prostitutes takes resources away from truly needy. The Illinois Department of Corrections reported 127 prostitution admissions in 2012, at a cost of
two million dollars:
http://www.dnainfo.com/chicago/20130321/chicago/prostitution-charged-as-felony-should-be-dropped-say-preckwinkle-gainer#ixzz2RB5ahC1U
The Superbowl Myth
:Whenever there is a major sports event like The Superbowl or The Olympics, there is always a rumor that huge flocks of trafficked sex workers will "brought in" for it.
That has consistently been shown to be untrue.
http://glaconservatives.co.uk/blog/andrew-boff-asks-mayor-why-500k-was-wasted-on-an-alleged-increase-in-trafficking-which-never-took-place-during-olympics/
And here.
http://www.snopes.com/sports/football/escort.asp
And here.
http://www.laweekly.com/2012-02-02/news/super-bowl-prostitution-hoax/
And here.
http://nextcity.org/daily/entry/new-orleans-braces-for-unlikely-surge-in-sex-workers
The Global Alliance Against Trafficking of Women (GAATW) released a 75-page paper disproving the myth that major sporting events attract large numbers of sex workers, let alone human traffickers.
"There is no evidence that large sporting events cause an increase in trafficking for prostitution."
(PDF)
http://www.gaatw.org/publications/WhatstheCostofaRumour.11.15.2011.pdf
Sex Work Views Globally
:
UK, The Guardian, 2008: Britain's "Poppy Project" which received 5.8million pounds in funding, was widely denounced by 27 key figures in sex work research from prestigious universities across the UK and overseas. They stated that the report was conducted with neither ethical approval nor acknowledgement of evidence and co-authored by a journalist known for producing anti-prostitution findings. "You can't just churn out political propaganda and say it's research. You end up with very dangerous policy."
http://www.guardian.co.uk/education/2008/oct/03/research.women
UK, The Guardian, 2009: Inquiry fails to find single trafficker who forced anybody into prostitution. "The UK's biggest ever investigation of sex trafficking failed to find a single person who had forced anybody into prostitution in spite of hundreds of raids on sex workers in a six-month campaign by government departments, specialist agencies and every police force in the country."
http://www.guardian.co.uk/uk/2009/oct/20/government-trafficking-enquiry-fails
http://www.guardian.co.uk/uk/2009/oct/20/government-trafficking-enquiry-fails
UK, The Guardian, 2009: "The sex trafficking story is a model of misinformation... the UK's 2003 Sexual Offences Act uses the word to describe the movement of all sex workers, including willing professionals who are simply traveling in search of a better income....The cacophony of voices has created the illusion of confirmation."
http://www.guardian.co.uk/uk/2009/oct/20/trafficking-numbers-women-exaggerated
UK, The Guardian: Female reported goes undercover in a brothel to get quotes from women who would be labeled as 'trafficked'. A brothel worker said, "I regret not working in the sex trade as soon as I got here." (I'm uneasy about the reporter's methods, but the quotes remain.)
http://www.guardian.co.uk/society/2013/apr/15/brothel-regret-not-working-sex-trade
The United Nations says: "The anti-trafficking law has the brutal effect of punishing trafficked persons, notably persons engaged in sex work. The model of 'raid, rescue and rehabilitation' results in extreme forms of violence against sex workers and their families, violating their basic human rights."
http://www.hivlawcommission.org/index.php/news/news/150-separating-consent-from-exploitation?utm_source=Global+Commission+on+HIV+and+the+Law+Newsletter&utm_campaign=4b8dd7a609-Newsletter2_13_2013&utm_medium=email
International AIDS advocates, who are currently required to SWEAR AN OATH against prostitution if they want government grants, say that the oath, and criminalization overall, hampers their efforts to stop the spread of disease.
http://newsatjama.jama.com/2013/02/13/jama-forum-the-anti-prostitution-loyalty-oath/
(The anti-prostitution oath is currently before the Supreme Court, and journalist Melissa Gira Grant is covering this story for The Nation.
http://www.thenation.com/blogs/melissa-gira-grant
)
US policies that conflate trafficking and prostitution in Thailand:
http://www.thenation.com/article/crusade-against-sex-trafficking?page=0,1
"I remember talking to US officials who were confused that there could be voluntary prostitution," he says. "They thought, 'Why would we need to differentiate? It's all forced and largely the same as trafficking. If we come across it, we should shut it down.' If you think that sex work is one of the worst things that can happen to a person, then I guess you can say you are rescuing people to take them out of it." The Nation, Noy Thrupkaew September 16, 2009
New Study On Sex Work And The Law In Latin America: "Sex trafficking is criminalized, but often mistakenly blurred with sex work. Confusing sex workers, who have chosen to engage in this area of work, with trafficked persons who have suffered some form of coercion, silences the legitimate voices of sex workers and actually blocks discussions on how to end human trafficking…. As sex work becomes more secretive, so the vulnerability of the human rights of sex workers increases."
http://www.aidsalliance.org/NewsDetails.aspx?Id=291530
Sex work in Australia: (Note: prostitution is legal in Australia, although regulations vary from state to state.) Researchers tell federal parliament that illegal brothel raids a waste of time: "Instead of an evidence-based approach addressing real vulnerabilities, Australia's approach continues to try to detect the mythical trafficking victim and trafficker that is a media-driven stereotype."
http://news.ninemsn.com.au/national/2013/04/23/13/16/brothel-raids-a-waste-of-time-sex-workers
More From Down Under: Decriminalizing sex work does not increase problems. I
n Australia and New Zealand,

laws regarding sex work have been undergoing reform
aimed at decriminalization

since the early 1990s. A 2012 report to Australian Ministry Of Health finds decriminalizing sex work has NOT increased trafficking, or voluntary sex work, or STIs. The whole thing is fascinating, but there's a summary of the findings on page 6 and its recommendations on page 7. (PDF)
Another global point of view: Anthropologist and author Dr Laura Agustín is an expert on sex work and migration. She spent years collecting a lot of data from many different countries and wrote an excellent book about it, "Sex At The Margins." On her blog, you can look through her lists of her articles by subject and date.
http://www.lauraagustin.com/
One of the more visible save-the-victims advocates is NYT columnist Nicholas Kristof, but turns out his methods and motives aren't as saintly as one might think. Here's a roundup of some criticism of his campaigns and why he exemplifies "bad advocacy."
http://postwhoreamerica.com/nicholas-kristof-half-the-sky-all-the-credit/
In the UK, prostitution
per se
is legal, although still stigmatized, and like Canada, they have a lot of satellite-laws that hamper safe working systems. (Two women cannot work together because that's "keeping a bawdy house", etc.) But a new concept, "The Merseyside Model" is gaining some ground: treat crimes against sex workers as hate crimes. I was skeptical - and I still am, to some degree - but the approach seems to have some good points in terms of making sex workers safer.
http://titsandsass.com/the-merseyside-model-part-i-can-sex-worker-activists-partner-with-the-police-and-a-conservative-london-politician/
UK Dr. Brooke Magnati has a lot of good things to say on the subject:
http://www.telegraph.co.uk/women/sex/9907625/Demonising-sex-workers-makes-their-lives-more-dangerous.html
She also tells a story of women being incarcerated in Ireland for (among other things) being promiscuous/sex workers, well into the 1970's. This is just one example of why many sex workers are extremely leery of "help" from government/charity orgs.
http://sexonomics-uk.blogspot.com/2013/01/when-help-is-anything-but.html
This is a good round-up site for current academic research papers and articles about sex work, and its conflation with trafficking:
http://sexworkresearch.wordpress.com/
Prolific blogger/activist Maggie McNeil has vast amounts of links and commentary on her blog,
"The Honest Courtesan"
Video:
Here's a good video, with citations,
explaining exactly how the US uses a gag order, The Anti-Prostitution Oath, to impose a fundamentalist morality on public health efforts and constrain harm reduction strategies around the world.
http://vimeo.com/43262622
Video:
The Thai sex workers rights group, Empower Foundation
, has made
a ten minute video called "Last Raid In Siam" that shows how they feel about organizations that raid and "rescue" them.
(Youtube, has sound, worksafe) "Last Raid In Siam" is funny, but the real-life story often isn't.
Two women died while recently trying to escape from an anti-prostitution center where they were being held against their will.
I have a list of people, stories and data like this goes back years, and it get longer every day. If there's an aspect of the situation you still have questions about, or you'd like to discuss this more with me, I'm happy to do that.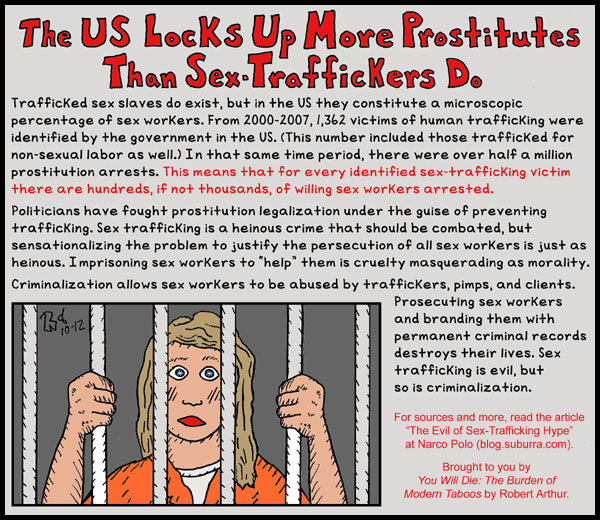 This image is by Narco Polo.
His blog is here.
***
Addendum
:
a quick overview of different views of how sex work should be treated
- prohibition, decriminalization, legalization, etc. I am an advocate for
decriminalization.
Also a list of countries where sex work is legal, and where it is not, and where it's somewhere in between.
Notice that the US is one of the few Western, industrialized countries where prostitutes are still arrested.
Friday, December 14, 2012
Bad Marketing (Of) Campaign
So, I'm not really officially blogging again. (Unless I decide that I am.) But something came to my inbox today that left me half-laughing and half-offended. It's so outrageous that I had to share it, and 140 characters simply won't do.
(Complete and unedited text of an advertising email I got from one of the sugardaddy/sugarbaby sites.)
As an attractive, independent woman, you get all the breaks: skipping lines at clubs, free drinks, higher employment rate, and now you are avoiding the "Fiscal Cliff".

Luckily for you, you're not ugly; because unfortunately, by order of natural selection, ugly women lose... and only the beautiful survive.


Your government wants to push you off a "cliff", so don't get caught without your "parachute". Starting January 3, 2013, women like you will lose at least two thousand dollars to higher taxes. And unless they find a Sugar Daddy who can be their "parachute", they will fall off the "cliff" with the rest of the women.

So, do you know a beautiful woman, like yourself, that you want to save from the Fiscal Cliff? Share this email with her to guarantee that both of you have your "parachutes".
Let's examine this bit by bit, shall we? In the first line, we get some passive-aggressive whining about the benefits of being considered an attractive person. Which do exist, although I must point out that attractive men also tend to have higher employment rates. (I would imagine that they could get free drinks with no lines, too – if they went to gay bars. You have to consider your audience.) Plus, I thought everyone was currently avoiding the fiscal cliff, not just attractive independent women.
Second line: people who have not really read Darwin should not try to reference his theories.
Third line: now we're getting down to it. The writer is correct to put quotation marks around "cliff", because it's actually not a cliff. I suppose he's right to put them around "parachute" as well, since in the event that one did, literally, fall off a cliff, your standard-issue parachute would not help the situation.
Fourth line: Since all attractive women apparently fall into the same tax bracket. And retroactive middle-class tax breaks that are overwhelmingly likely to be passed don't apply to us, it seems.
Fifth line: And the GOP wonders why women thought a war had been declared on them? Who wrote this, Todd Akin and Richard Murdock?
Sixth line: You know, if I did think I was about to "fall" off a "cliff" and I needed a "parachute" to save me from the fate of "the rest of the women", I'm not sure I'd be inviting other beautiful women hang onto my legs. Kind of goes against that natural selection thing, you see. I really hate it when terrible ad copy is so philosophically inconsistent.
So this is terrible writing, and a completely lame and somewhat offensive premise, but I must reluctantly give it points for sheer marketing nerve.

You have to appreciate it when a website takes a markedly republican-ish point of view about the current financial situation and spins that into what is, basically, the suggestion that women should be sex workers and encourage their friends to be, too.
I'm somewhat disappointed to see that they didn't try to work any of the social-conservatism angles into this pitch, though. They could have done something about how undocumented foreign women are going to take all the American men? Or how now that gays can marry, all the men (or should I call them "parachutes"?) are going to marry EACH OTHER! And leave us women to go over the cliff. An opportunity missed, there.
Ironically, I got this more or less right after reading an unbelievably condescending bit of tripe by Glenn Reynolds saying, essentially, that the unmarried women who didn't vote for Romney were "low information voters", and that the GOP should court us by buying some women's magazines and putting Republican-friendly "feel-good stories" among the "the usual stuff on sex, diet and shopping".
I'm unmarried, Glenn. I read fashion magazines – and that is what you are talking about: fashion magazines. Not all women read them, and not only women read them, either. Let me tell you what else I read, every day: The New York Times, The Washington Post, and the CNN site.* It will shock you to know that I'm not a big HuffPo fan.

In addition, at least once a week, I go look at The Weekly Standard and The Wall Street Journal. I sometimes even check out (god help me) The National Review, because I'm one of those crazy people who thinks one shouldn't live in an echo chamber. I find that works out well for me.
In short, I am anything but low-information. And I still did not vote for Romney. So take your patronizing drivel about my woefully-uninformed female brain and go fall off a cliff with it. Your ideas about how the GOP should to appeal to women are less intelligent and much more offensive than this email.
*Also frequent reads: The LA Times, The Stranger/Slog, The Seattle Times (although not that much) Talking Points Memo, and The Economist.
Thursday, December 13, 2012
Hi. So, yeah - I'm not blogging so much these days. Who knows, this blog may live again some time, but not right now.
If you're new here, check out the archives for seven years of articles about sex, BDSM, sex work, polyamory, and various other topics both sacred and profane. The last few years have tags, or employ
an advanced Google search
to find keywords. If it has to do with sex, I've probably written about it.
I
twitter
here.
My articles appear in the Seattle weekly newspaper
The Stranger
,
and the complete archives of those articles are available here.
There are links to the right for my professional website, the Flickr feed, and various other bits of goodness about me. You can email me: MistressMatisse at gmail.com
If you've been a regular reader of mine - thank you! Your support has always meant a lot to me, and it continues to do so.
Monday, March 28, 2011
The latest column in The Stranger, about the way one should measure one's success as a top.
And an answer to a question about collars and the subtleties of BDSM relationships.
***

Under My Protection and Collars of Consideration
I saw some questions about this on a kink community board I'm on, so I'm using them as a blog-prompt for myself.
Q: When someone says, "So-and-so is

under my protection

", what does that mean?
That phrase may or may not mean that two people involved are playing together. The general translation of that sentiment, in my mind, is: "I'm fond of this person, and either because of his/her newness to kink, or just general emotional issues, I perceive her/him as being vulnerable to predatory personalities. So go ahead and chat them up, it's all good, but just be aware: you fuck with them, you're fucking with me. And you don't want to fuck with me."
Your mileage may vary, of course. But that's more or less what it means when
I
say it.
Q: What is a Collar of Consideration?
A tiresome bit of pretentiousness? Collars of Consideration, indeed. What am I, a kinky seminary or something?
Oh, all right, I don't really mean that. I mean: I don't do that sort of thing myself. I don't generally use collars very much at all. (Although they are pretty to look at, and sometimes useful, too.) Some other people place a lot of meaning in them, and that's fine. And whatever you want to call them is also fine with me - as long as you don't pretend that there is some sort of universally agreed-upon BDSM system of ranking the person wearing them according to the title of the collar, or its color, or its material, or anything like that, because there is not.
I suppose you could say a "Collar of Consideration" might be the kink version of a Promise Ring – the people involved are engaged to be engaged, if you will, in a committed D/s relationship. That would be my take on that.
As always in BDSM, when in doubt, politely say to the person you're talking to, "I don't want to be rude, but I'm not sure I understand the etiquette here - can you tell me what that means, exactly?" That'll pretty much cover you no matter what.
(Originally published April 2010)
Labels: advice, bdsm dynamics, column
Friday, February 25, 2011
I have neglected the blog lately, so here's a bit of catch-up. A Stranger column about
Why Nerds Rule The BDSM Community
. And the one before that, about
How Not To Have An Open Relationship.
Now, the podcasts. I know you like the podcasts, I read all the emails you send me about them, and that is great, because
TwistedMonk
and I like doing them. There have been technical problems, but Monk has wrestling manfully with the issues for months. It has been crazy-difficult to get iTunes to update the data, but we think - emphasis on the
think
- we have it all fixed. (With the fabulous assistance of another sexy podcaster.)
So I'm publishing a fresh one to my hosting site to test it out.
Please cross your fingers that iTunes recognizes it and updates the listing on their site. If not - well, back to the drawing board.
Labels: advice, bdsm dynamics, column, kinky life, polyamory
Wednesday, February 16, 2011
Tuesday, February 08, 2011
Another of the Blog Greatest Hits: Occasionally the tables are unexpectedly turned on the the Mistress...
***

So I got handled by a lot of strange women yesterday. And I spent a lot of money for the privilege, too.

Let me back up a bit. I have had hardly anyone booked to see me this week. Usually when it's slow I try to shake the tree a little, entice some more people into my clutches. But this week I just decided to say the heck with it and let it be slow. I have been taking care of a lot of little personal chores, and I decided to book a bunch of time-consuming girlie-maintenance stuff. I have a facial today at the Calidora Spa in U Village, for example. I like the facials I get at my dermatologist's office, but you have to book so far in advance there, and of course they have no evenings or weekends, so I thought I'd go see if Calidora was any good. Wish me luck that they don't do something terrible to my face.

But yesterday I got a manicure and pedicure at this little salon near The Big House, called Hoa. I've been getting my nails done there for a few months now, and they're very nice.
They were particularly nice yesterday. I am a heavy tipper, especially with spa-type service stuff. If you've ever hustled for tips as a major chunk of your income, then you know how really happy it makes you when someone is generous, so I am. I think word has gotten around about that at Hoa. They always massage your legs up to the knee when they give you the pedicure, and they usually massage your arms up the elbow. But I got what seemed like an extra-long foot and leg massage, and the girl doing my hands was rubbing up my arms, to my shoulders, and then my neck. It was extremely blissful.
I said as much to the girl massaging my shoulders. Many of the ladies there do not seem to speak a whole lot of English, although it's sometimes a little hard to tell. But she understood my smile and my sigh, and she smiled back at me and rubbed more firmly. Seeing us, the girl doing my feet smiled too. I mentally added another five dollars to both their tips.
So I'm sitting there is this big black massage-chair with the rollers going up and down my back, with one girl massaging my feet and legs and another lady massaging my arms and shoulders, thinking, "This is like sex." And then I thought, "Actually, this is like being the client of a sex worker. And I am totally fine with that."
An hour later I emerged from Hoa, fingers and toes gleaming, and went to Nordstrom to just quickly return a bra I'd bought online that didn't fit. Or so I thought.
I gave the bra and receipt to the salesgirl. She said, "Did you want to get something else?"
I replied, "Well, I'm looking for a bra with a really smooth line for under tight knits. Do you have any suggestions?"
"Have you been fitted here before?"
I admitted I had not.
Well, that would never do. Ignoring my unfinished protests, the salesgirl conducted me to the dressing rooms, led me into a little cubicle and closed the door, brandishing her tape measure. "Let's just have you take off your shirt."
Meekly I obeyed. She turned me around and lassoed me with the tape. "First we'll just get your rib cage measurement." I could feel her breath on my hair.
"Okay," she said briskly. "I'll be right back with the Measuring Bra." I wondered if the Measuring Bra was like The Sorting Hat. Was it going to sing a song about my boobs?
She returned with a beige lacy bra that looked like something my grandmother would have worn, with big high cups. I must have looked dubious, because she said, "Oh, it's just the Measuring Bra. We'll find you some different ones. But let's just take you out of that bra and put you in this one."
I thought, I just laid eyes on this girl ten minutes ago and she's telling me to take off my clothes. And I'm doing it. Is this how people feel when they come see me?
I took off my bra. The salesgirl - or Mistress Underwire, as I was beginning to think of her - eyed my breasts and held out the Measuring Bra to me. I have never had anyone hold out a bra for me to slide my arms into, it was sort of strange. I had to step up fairly close to her to get all the way in. Hi there. Nice perfume. Then she turned me around and hooked me up in back.
"Now I want you to just bend over at the waist."
Okay…. I'd heard about this, actually, bra fitters telling you to bend over. So I did. It was a small room, not much bigger than a closet, and my ass bumped into her hips slightly. In the mirror, I had a glimpse of her standing up close behind me, adjusting the straps, as I leaned forward. I have a mirror hung next to my spanking bench in my dungeon, and I see myself in that position with people a lot – only I'm the one standing up straight. But not, until now, had I ever seen anyone posed like that in a Nordie's dressing room.
She had me stand up and turn around. The Goddess Of Uplift studied my breasts thoughtfully, tugged at the sides of the bra slightly, and then said, "Let me just…" And stuck her hand into the cup and repositioned my boob. Then she put her fingers under the cups of the bra and shook my breast gently. And then she did the same with the other one.

Now, I wasn't upset by this, you understand. I was quite clear it was all in the line of duty. But – you have to admit it's a bit funny. Maybe it's just me, but I couldn't help thinking, Um, yeah, you're playing with my breasts, there. Just sayin'.
I think it would have been different if I'd come in expecting that. But since I didn't, I was a bit bemused by having a strange woman dressing me up in lingerie and arranging my boobs - which she referred to as "breast tissue" - to her satisfaction.

Of course, I'd been wearing the wrong size bra. I think you always are when you go to a bra fitter. I thought of myself as hovering between a big B cup and a small C. But according this lady - no, that was wrong, I should wear a D. Which is hard for me to fathom, but okay, bring them on, I'll try them.

So the Demi-Cup Domina went away and came back with an armful of bras, and matching panties for everything, plus some yummy blue lace lingerie, since I'd mentioned that to her. And she tugged and shook and got me properly strapped into everything. She was a positive whirl of Nordstrom-ly helpfulness, in a sort of just-do-as-I-say-and-no-one-gets-hurt sort of way.
I'm kidding, really. She was fine and she found me a lot of stuff I needed. Obviously one doesn't tip salespeople, but I hope she gets a nice commission off me.
She'd probably make a really good dominatrix, though, if she ever wanted to go that way.
Originally published May 2008.

Labels: blog greatest hits, kinky life
Thursday, January 27, 2011
I'm expecting a bit of heat from the blogosphere about my Stranger column on Ms. Nickie Blue's recent video for Kink.com.
Here's a few points that my 500-word-limit didn't allow me to make...
Yes, I did trade some email with Nickie Blue. She's a lovely woman, she seems like a charming person, and I wish her the best in her career.
I have some thoughts about the video
as a piece of erotic art
, separate from the offstage controversy. But I will save my review of the video, lest those remarks get mixed up with this.
Whether people think Ms. Blue is, or is not, a "real" virgin because she's had anal sex doesn't matter to me. She says she hasn't had vaginal penetration before, and I am certainly not going to contradict her. For one thing, that would be mean-spirited and presumptuous. For another, I watched the video of her having sex with Mark Davis, Jack Hammer* and James Deen. There are certain unmistakable facial expressions, noises, and body language that any woman who has ever had and/or seen uncomfortable vaginal penetration will recognize. They are not easy to fake convincingly, and Ms. Blue displayed them exactly. That was a not a woman who's had lots of vaginal sex just flexing her Kegels. So I'm just fine with her identifying herself as a virgin.
On one level, I have no problem with Ms. Blue creating her porn-star brand around her virginity. It seems obvious that from a business standpoint, she's going to need a new schtick soon, but that's not a major problem. I re-invented myself in the sex work industry half a dozen times or more – most sex workers do. I respect Ms. Blue's acumen in identifying a marketable feature of herself and capitalizing on it. She's clearly tenacious and driven, and those are very good traits indeed for an entrepreneur.
But I also have a strongly held opinion that sex work, like BDSM and polyamory, is advanced sexual behavior. It is not a place to learn the basics. It is not a place for virgins.
You see, in business, there is something called
opportunity cost
. That means: the cost of an alternative that must be forgone in order to pursue a certain action. It also refers to the
benefits
you could have received by taking an alternative action. And in sex work, an opportunity cost can be emotional.
So I'm not saying
oh, virginity is this sacred thing.
But people generally benefit from learning to do new, emotionally-loaded, intimate things in a low-stress setting, with people they trust. Ms. Blue will incur an emotional opportunity cost for experiencing vaginal penetration for the first time in a highly stressful setting with men with whom she did not choose and with whom she had no emotional connection.
Only a woman who has a certain amount of sexual experience can make a reasonable judgment on how she will feel about, say, having sex with a stranger. Or having sex in front of an audience. Or both. A sexually inexperienced woman has no basis for predicting how she'll react emotionally in the situation. Thus, it's unrealistic for her to expect to be able to regulate her feelings about it, either in the moment or after the fact. (Of course, even having sexual experience is not a guarantee it's going to be a positive thing for her.)
So I hope Ms. Blue's emotional opportunity cost for this performance was low, and that her gain from it, both in terms of her paycheck and boosting her future career, is high. But that will be the result of luck rather than an informed opinion, and luck is not something she should rely on in this game.
Something I observed in reading other sex workers writings on this: Sex work activists don't like to talk about the emotional costs of doing sex work very much. I'm sure it's because it would be easy for anti-SW readers to perceive us as saying that sex work is emotionally damaging to women. That's not at all what I'm saying.
But sex work is one of the many jobs which requires what sociologist Arlie Hochschild called
"emotional labor"
and emotional regulation. Sexual
emotional-intelligence
, in other words. For some women, sex work speaks to a particular set of talents and skills we possess, and the challenges of it are, overall, interesting and positive for us. For other women, that's not the case.
So you should not do porn, or any kind of sex work, to explore
your
sexuality. A happy and emotionally-healthy sex worker is someone with the tools and the desire to facilitate other people exploring
their
sexuality. As you go along in sex work, you'll learn what particular types of sexuality you most enjoy participating in, and gravitate towards the appropriate setting for that. But getting into corporate porn to "explore your sexuality" is rather like joining the military to explore your issues with aggression and formalized hierarchies. You certainly will get an education, but it's unlikely to be a smooth and enjoyable process.
Virgins aspiring to sex work, think it like this: Actors rehearse, athletes train, and musicians practice. If you want your sexuality to enrich the lives of other people, and you want to be happy doing so, learn your skills in private. Then go forth and make the world a sexier place.
***
*Special good wishes for a speedy recovery go out to porn performer
Jack Hammer,
who was recently diagnosed with bladder cancer.
Labels: sex work
Monday, January 24, 2011
I continue to mine my own archives to bring ya'll some long-form amusement... This is a story about what happens when women cruise each other. Originally posted Saturday, February 05, 2005.
Maybe I Should Get A Septum Piercing Or Something…
Because I must look too normal. I realized this last Wednesday evening when I was changing clothes in the locker room at Gold's on Broadway after my workout. A woman I'd not seen around before walked in, set down her bag on the next bench over from mine and started getting her gear out.
She was a very butch woman – I mean, so butch you might have mistaken her for a guy. Unless, of course you'd spent a lot of time around butch women, the way I have. Most of my female lovers have been pretty butchy. I've always enjoyed that feminine-blending-into-masculine energy. And then I married a transman, so I'm well-acquainted with all the shades of gender expression a female-bodied person can achieve.
I was struck by this particular woman because she very closely resembled an ex-lover of mine, whom I just saw last week for the first time in – god, it must be well over a year. Frankly, although I wish her well, it's always a little unsettling for me to see her. (Especially when she flirts with me, as she did last week.) This woman and I went through a couple of rather tumultuous cycles of breaking-up/getting-back-together, and while I wouldn't exactly say she broke my heart, she chipped it a bit. It was a highly emotional connection for me, and while it's been about eight years since we broke up the last time, seeing her still arouses in me an uncomfortable mix of affection and pain.
So I suppose this woman in the Gold's locker room must have seen me glance at her a couple of times, and maybe she caught an odd expression on my face, because she turned to me, and said in this half-defensive, half-condescending tone of voice, "Yes, I
am
a woman."
Christ,
I thought,
do you have me pegged wrong.
Aloud I said, "Yes, I was just thinking you look kinda like my ex-girlfriend."
She had the grace to look somewhat embarrassed, muttered something vaguely apologetic and retreated to the bathroom stalls.
But I thought,
God, do I look that straight?
That's scary. Okay, I don't have a labrys tattooed on my ass, but still… And I know butch women get a lot of shit for walking around in the world looking and acting like they do. But for god's sake, we're on Broadway, in the queer Mecca – lighten up, sister. I hate to think how you'd have reacted if I'd been cruising you.
I related this story to a friend over dinner, and then we recalled another women's locker room story of mine that's rather at the other end of the scale. We used to work out at Olympic Athletic Club in Ballard, and they have a big, sort of open shower/hot tub area in the women's locker room. Now, Ballard's not a big gay area, but one day when I was working out, I spotted two cute women who were clearly queer, and lovers. One of them I'd describe as a tomboy-femme, and the other – well, let's call her butch-of-center.
Nice,
I thought, and then went on through my workout.
Later, I got undressed in the locker room and went down the tiled passage to the showers. As I walked, I saw the two cute lesbians sitting in the hot tub, facing me. Now, contrary to porn-video fantasy, women rarely cruise other women, and almost never jump each other in places like, say, gym showers. But still, these two women were most certainly…watching me walk towards them. I could almost hear the strains of "Standing on the corner, watching all the girls go by…"
I took in the fact that they were looking at me, and I happened to be in the mood to play along. So as I walked towards them, I let the towel I was sort of casually holding up to myself slip down a bit to see if I got any reaction.
Definitely watching me.
That's nice.
Now, the showers are arranged in a semi-circle around the hot tub, so when I got there, I stopped about three feet away from the tub and let the towel fall away from my nude body completely, as I paused to wrestle with the complex issue of just which shower stall I should go into.
Hmm, let's see – that one?
(Perform180 degree swivel, toss the hair, arch the back a little bit.)
Or, no, maybe that one over there?
(Turn back the other way, shoulders back, deep breath.)
I watched from the corner of my eye - they both had smiles well-laced with sensual appreciation, and the butchy one giggled slightly, which caused her girlfriend to jab her in the ribs with her elbow.
Without quite making eye contact, I let a slight smile hover around my lips. Then I hung up my towel on a hook and stepped into one of the stalls.
But - what's this? It looks like someone left a bottle of shampoo in here. Huh, imagine that. Gee, I wonder if it belongs to anyone…
I stepped back out of the stall and took a few steps towards the women in the hot tub, holding out the shampoo bottle. I made eye contact with them, smiled slowly, and then said, in my best magnolia-blossom drawl, I asked, "Is this ya'lls shampoo?"
The butch woman stared at me wordlessly for a moment, like she'd been struck by lightning. It was charming. Then, as if reflexively, she shook her head and said, "No."
But the minute after she said it, she sort of squeezed her eyes closed and put her hand up over her face. You could see her mentally kicking herself and thinking, "Fuck! Why did I say that?"
The femme gave her an affectionate, pitying smile and said to me in velvety tones, "Oh – I'm not sure… Can I see it?" and held out her hand to me.
So I walked closer to her, letting my hips sway a trifle more than is my custom, bent over the tub slightly – barely audible intake of breath from the butch – and handed the femme the white plastic bottle. As I hung over the water, the steam rose gently from the tub, misting my face with warm, dewy beads. She turned the bottle over in her hands a few times, and then looked up at me.
"No, I don't think it's ours," she said. But she didn't hand it back to me. She just looked at me.
It's hard to say what would have happened if we'd been alone. Based on my experience of how non-casual-sex-oriented most women are, I can't really make myself believe these women would have seriously made a pass at me – but I suppose anything's possible.
However, we were not alone in the locker room, and at that moment, another woman walked into the shower area. I cocked an eyebrow and smiled at the femme, who gave the tiniest shrug and smile and handed me back the bottle. The butch woman sank a little lower in the water and grinned sheepishly at me from under her wet bangs. I went and took my shower, and when I came out, they were gone. A droll and gently erotic little exchange that left me smiling.
Labels: my non-kink life
Friday, January 14, 2011
Just to show ya'll that I have not abandoned you: a repost of a scene Jae and I reminisced about the other day - spanking the Bicycle Man. The photos are not for the faint of heart.
***

Smack

Now, not everybody I see is into heavy intense sensation. But I do have a handful of boys who like it as heavy as I can dish it out.
I've written about this kind of scene before, and that may have been what prompted a gentlemen I'll call the Bicycle Man to come see me. Like the guy in the column, Bicycle Man also likes impact on the ass, just as hard as I can do it. (I can actually get him to the "enough" point, though.)

There are so many different pleasures in BDSM - I could never settle for just one. But there is something viscerally satisfying about hitting something as hard as you can, and since I'm a sadist, I particularly like it when that something is a nicely responsive human body.
And since I'm a generous person, I decided that Jae should meet Bicycle Man, too. I'm strictly a gym queen when it comes to athletics, but Jae played softball in high school and college. Golf, too. She's got a serious swing.
The three of us had a great time. Wanna see? (The usual disclaimers apply…)
I do sort of bat like a girl, though, don't I? Jae has great follow-through.
We did catch one stroke just at the moment of impact.
But Jae and I are sure we could capture still more spanking art, so the Bicycle Man will just have to come see us again sometime…
(Original Post: Tuesday, April 17, 2007)
Labels: bdsm techniques, Jae, scenes, spanking
Friday, December 31, 2010
I've been really bad about not updating recently. And this URL is due for a big overhaul soon, so if you see it changing, don't panic. The content will not be going away, it'll just look different, that's all.
Meanwhile, the two most recent Stranger columns, for those of ya'll who missed them.
Why Don't Men Wear Strap-Ons?
and
What's In/What's Out 2011.
Happy New Year!
Labels: column
Wednesday, December 15, 2010
Two important points before you read this. One: in this blog post, I make some sweeping, gender-based generalizations, and I make them in a somewhat tongue-in-cheek manner. I am aware that not every man or woman feels, thinks and acts in the ways I mention. This is a light-hearted blog post, not a feminist manifesto, so don't get your gender-neutral panties in a twist, please.
And two:
naturally
every man of my acquaintance is an exception to all these statements.
Naturally
I'm not talking about any man I have ever known personally here. My goodness no.
Dear Mistress Matisse

I'm a 27y/o submissive bisexual woman in a D/s relationship with a dominant man named Tom. We were both fairly inexperienced when we met, and sort of stumbled into finding out we were both kinky. It's been really great. We're well matched and are enjoying trying out every little thing our perverted minds can come up with.

However, part of my sexual history has been pretty unpleasant. I was in an abusive relationship for nearly two years, and I had crappy experiences when I was growing up due to a combination of naivete and skeevy bastards. I've dealt with it in therapy and I certainly don't consider it as defining my sexuality. But it is there, and anyone I get into bed with gets a disclaimer: I have triggery points, and although I want to enjoy myself with you something we do may hit them. This history doesn't really have anything to do with kinky sex, and working through it has been more about learning to trust partners in general than anything else.

In getting closer to Tom I've shared more of that history with him. However, he hasn't ever really dealt with this sort of thing before- he grew up a bit sheltered, and has never been close to someone who's been working through, say, depression or trauma. Dealing with this freaks him out a little, and he doesn't really know what to do. It's not that he doesn't want to be there in the event that I need him, and I've said that I would tell him what I need in the event that something does come up. Honestly, it's happened just once in the time we've known each other (nearly a year now) and most of the time all I need is a cup of tea and some time alone/a hug. But it's the idea of psychological instability, no matter how minor, that unsettles him.

But since I talked about that part of my history (and really not anything near what I would consider the worst of it) he's been treating me differently in session. It feels like he's holding back and not doing everything that he wants to. I think that he's worried about bringing up bad history, but it's pretty frustrating. I don't want him to treat me with kid gloves- that's hardly the point of this endeavor. But it also makes me feel like he doesn't trust me enough to tell him if something's getting too intense, or as though he feels like he needs to take responsibility for my feelings. While I love that he doesn't want to hurt me (in the bad way) I really don't like that. He's said that he doesn't want me to ever get to the point where I need to use my safeword- that part of being a good dom is being able to know if something's getting too intense, that him crossing that line would be a personal failing on his part (and yes, he used the words 'personal failing'). I disagree - sometimes shit happens in session. It's not pleasant, but you move along and get back on the horse, assuming that things haven't been royally fucked up. And I wouldn't be playing with him in the first place if I thought he was the kind of person with whom things could get really bad.

I really like this guy, but I'm not sure what to do about this. Is it an intimacy thing that needs to happen over time? Am I missing something really obvious? Any advice would be greatly appreciated.
This is not a wildly unusual situation. You're both new at this. He's still building his confidence as a top. Most people have to do that when they first start out, that's normal. There's not a magic-bullet answer for this, it's simply a matter of time and experience.
You may, in all innocence, have overshared a bit and spooked him. It makes a top - especially
male
tops - nervous when you spend a lot of time telling them about how you might freak out if this or that happens. Believe me, everyone has their triggery points. We know this is emotionally intense stuff - that is why it's hot. If it's true that all you'd need is tea, space, or a hug, then in the future, go light on the foreshadowing and just ask for that if it comes up.
I do think there's a broader context to this, although you may not care for my ideas on the subject. But here goes: consider the possibility that you're overthinking this - and that you're being a bit controlling, too. You talk about wanting him to trust you – what would it look like if you decided to trust him, and his process? What if you said to yourself, "Okay, I want Tom to feel and behave this certain way, both because it would align with my wishes and because I think he'd like it too. But he isn't choosing to do that. However, he communicates to me, both verbally and by continuing to do scenes with me, that he is enjoying what we do. I've told him what is true for me. Now I am going to stop second-guessing him and trust that he is the best and highest authority on what's best for him right now."
Luckily, whether it's his nerves or you being too controlling, or a combination of both, the solution is the same: stop trying to
do
anything. Whatever is in Tom's head is not yours to deal with. The thing you have complete control over is
your own behavior
. So you can choose to play with him, or not. You can ask for certain activities, or not. And then you can accept that Tom is the sort of top, and the sort of man, that he is. Or – not.
***


Here is where I go off on a tangent that's not directed at the writer herself, but more at the culture in general. The idea that a woman can and should try to change how her male partner
feels
about things annoys me. Of course, I don't think
anyone
should try to control any other person's feelings, regardless of gender. But I get a lot of letters that sound much like this - and they are nearly always from women. Men have their own brand of bad habits (Lord knows I have discussed them extensively here), but I almost never get this sort of letter from men.
I place the blame on women's magazines, publishing all those stupid articles about
Ten Tips For Fixing Whatever The Hell Is Wrong With Your Man!
It's sort of borderline when said fixes are purely external. I have known and loved men who I thought really needed a different haircut, or some clothes from, say, the current decade. That's minor stuff, and some men are happy to have a woman tactfully offer help with such things. Some aren't, and then you have to either deal with it or not. But he couldn't be that awful, or you wouldn't be with him in the first place, right?
However, I strongly disagree with the idea that a woman should try to redesign the inside of a man's head. If you want a romance with someone who thinks just like you, date other women. Men are
different
from us. Really. Their view of the world is neither better or worse than ours, it just – is. I myself think men are sort of like the Federal government. They do certain important jobs really well, but it's best to keep their official duties simply defined. As far as I am concerned, the duties of the men in my life are: lift heavy things, defend me from hostile insects and rodents, tell me that I'm beautiful, and make with the sexy.
Perhaps there are some refinements to those tasks - cooking dinner, helping me with my taxes, clearing paths through crowds, et cetera. But I think with men, it's best to stick to job requirements that are observable to the naked eye. If you tell a man what you wish to have
done
, he'll either do it, or else he won't. But if it's something both of you can see, then it's easier to discuss. Telling a man you want him to
feel
differently is hard to measure, and doing so rarely yields a satisfactory result for anyone, in my experience.
Again, I'm being somewhat flippant in how I'm expressing this. However, I am serious when I say: it is a mistake to try to get your partner to change how he thinks and feels. If you don't already like how he thinks and feels, then why are you with him?
So you want a tip, ladies? Here's a tip: take the man, or leave him, just like he is. You want to fix something around your house? Re-cover your couch. Or clean out the gutters, or organize your spice cabinet, or whatever. But fixing up a man? Bad idea.
Labels: advice, bdsm dynamics, letters, relationships
Saturday, December 04, 2010
Wednesday, November 17, 2010
I have a new Stranger column up, and I'm expecting some blowback from it, either on the Stranger page or elsewhere on the web, because I am pushing a hot button: I am suggesting that the BDSM instructors should not teach – or even demonstrate – high risk practices in short, beginner-accessible classes.
So you should read that column first, because the rest of this post discusses it.
This column sprung from attending a breathplay class taught by Lee Harrington here in Seattle recently, part of which made me uneasy. Let me emphasize here that
Lee showed us a lot of fun, no/low risk ways to limit or change the way someone breathes.
Lee is a very engaging speaker/performer, and has a lot of good things to say about the psychology and theatre of breathplay. It was only
part
of the class troubled me, and that was the part with demonstrations of strangling, and the part where Lee put a plastic bag over his head and taped it around his neck.
The good part of this was how well Lee Harrington – with whom I've been acquainted for some years – took my criticism
. He listened to my opinion thoughtfully and without defensiveness, and we had a really good dialogue about it privately. For now, he's not teaching the class as a stand-alone offering. Handling criticism well takes grace and maturity, and Lee displayed an impressive level of both. I respect that a
lot.
Breathplay is a touchy issue for BDSM people. Even the mere word
breathplay
is tricky. It's a bit like the word "bondage" – it covers a very broad range of activity. Let me reiterate that I have no problem with the milder end of breathplay, either doing it or teaching it.
However, as with every kind of BDSM, there is a scale of intensity and risk in breathplay. And there are specific practices at the high end of the overall activity where the risk of harm is so high and so uncontrollable that I don't think they should be taught to a general audience.
Strangling people unconscious, or suffocating them unconscious with a plastic bag or some similar thing like plastic wrap, is very high risk.
I think BDSM educators should be actively discouraging those behaviors.
And I don't think it's repressive, or a waste of time to do that. This is not about shaming people for their turn-ons, or preaching a just-say-no sermon. It's no different than bondage instructors teaching people not to suspend people by just their wrists. Yes, it looks cool, you see it in the movies, and there are porn pictures of it online, but in real life, that's likely to damage someone's hands in a severe and/or permanent way, so he instructs people not to do that. There are other ways to tie people up that are hot and sexy and far less likely to result in physical damage.
In the same way, there are ways to play with breathing that are far less likely to result in someone being harmed. That's what we should be teaching people to do. I have no illusions that everyone will stop doing intense strangling and suffocation. But I believe that the BDSM community can and should influence some people towards safer types of play.
For some people, the idea that they are
deliberately and purposefully
risking death is part of the thrill of strangling and suffocation. They feel it's the ultimate expression of trust, although I don't quite understand how it expresses trust when a lot of risk is beyond the conscious control of the top. Doing a scene like that - one where, if things go wrong, someone dies on the spot - is called
edgeplay,
and I admit openly it's not my kink. But obviously if you like playing with the possibility of death, then safer breathplay will not appeal to you.
Fans of strangling like to invoke martial-arts masters as examples of how choke-holds can be done safely. To them I say: if you and your partner are, in fact, both martial-arts masters who have been trained in this, then yes, you can assess your risk differently. (I say
both
because being schooled in how to respond to a choke-hold in a way that minimizes damage is part of why that works as well as it does.) And doing even a properly-executed chokehold while alone with a sexual partner is still a different situation than doing it in a ring surround by judges and officials, and with emergency medical help standing by. But I acknowledge that some people have superior training.
However, the vast majority of people in the world - including me - are actually
not
trained martial-arts masters. For us, using martial-arts masters as an example for what's safe in breathplay is a bit like using professional racecar drivers as an example of what's safe to do while driving I-5.
So to my mind, if you want to be educated in how to apply chokeholds, then go to martial-arts school. It will take longer than two hours, for sure, and it will involve more effort than you just showing up and sitting on a folding chair. (And way more than - sweet Jesus - reading about it and watching porn of it online.)
But guess what? Gaining true mastery of
any
BDSM technique takes work. If you want to do high-risk play, but you care so little for your partner's safety that you're not willing to spend time, effort and money to learn as much as you possibly can about how to do it, then I don't have much respect for you as a player.
I have some other thoughts about the culture of breathplay as a part of the BDSM community – there are a few curious anomalies about it that I want to discuss with some people I know and respect who do breathplay. And I'm actually pondering a follow-up column to this one, if I can get a Seattle-area martial-arts instructor to answer some interview questions for me about learning and using chokeholds. So look for more questions and analysis about this in days to come…
EDITED: I think free-diving school would be the best way to learn about suffocation. Obviously it's slightly different being in the water versus having a bag over your head, but it's my opinion that the science of it would be similar enough to make that practice
slightly less
high-risk.
Labels: advice, bdsm dynamics, bdsm techniques, column